BIOGRAPHY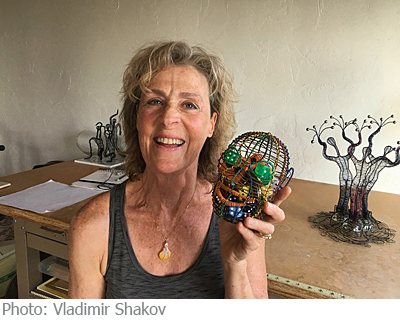 Chris Wooten is a mixed-media artist who has spent much of her life making artworks for solo and group exhibitions, and for private and public art commissions.
Chris' imagery, messages and use of materials are informed by ancient and modern cultures, and by human connections to the natural environment through rituals, observation and interpretation. Her artworks emerge from a personal mythology, often with a compelling story to tell. Oscillating between producing artworks that invoke a sense of beauty and joy, versus art pieces that are an expression of frustration with the injustices in the world, her work ultimately emphasizes that humans are part of nature, not superior to or separate from it.
Currently working in sculptural woven wire, her pieces produce cast shadows and convey permeability, transparency and lightness. These qualities reinforce her messages regarding impermanence and shifting realities.
Chris also has extensive experience working in mixed media fabrications, sculptural fiber, printmaking and theatrical costuming/mask-making. She received her formal arts education from the University of Washington and the University of Illinois. Her ongoing artistic development comes from life experiences and working with a variety of people in a variety of environments.
EVENTS & EXHIBITIONS
2019
Nov 21st, 2019 - January 4th, 2020- "Holiday Art Exhibition," Schack Art Center, 2921 Hoyt Ave., Everett WA 98201
Opening Reception: Thursday November 21st, 5-8 pm
Regular Hours: M-F-10-6, Sat-10-5, Sun-Noon-5
2020
March 5th - April 11th, 2020 - "Currents 2020 National Craft Exhibition," Group Show, 2921 Hoyt Ave., Schack Art Center, Everett WA 98201
Opening Reception: Thursday March 3rd, 2020, 5-8pm
Regular Hours: M-F-10-6, Sat-10-5, Sun-Noon-5
EDUCATION
Printmaking, University of Washington, Seattle, WA
Printmaking/Painting, University of Illinois, Champaign, IL
AA/Fine Arts, Black Hawk College, Rock Island, IL

PROFESSIONAL AFFILIATIONS
American Art Company, Tacoma WA
Northwest Designer Craftsmen, Seattle WA
National Basketry Organization, Gloucester MA
SOLO, INVITATIONAL AND GROUP SHOWS
2020
Currents 2020 National Craft Exhibition, Group Show, Schack Art Center, Everett WA
2019
Art of the Garden, 14 Piece Installation for Group Show, Schack Art Center, Everett WA
STEM+Art+Design, NWDC Group Show, Schack Art Center, Everett WA
Juror's Invitational, Custom Installation for Group Show, Kenneth J. Minnaert Center for the Arts, South Puget Sound Community College, Olympia WA
CVG Show, Group Show, Collective Visions Gallery, Bremerton WA
For Tacoma, Invitational Group Show, Alma Mater Gallery, Tacoma WA
2018
The Contemporary Art of Pacific Northwest Crafts, Group Show, Washington State Convention Center, Seattle WA
SW Washington Juried Exhibition, Kenneth J. Minnaert Center for the Arts, Olympia WA - Merit Award
16th Annual Art Exhibition, The Gallery At Tacoma Community College, Tacoma WA
New Work, American Art Company, Tacoma WA
2017
New Work, 2-Person Show, MINKA Gallery & Design Showroom, Tacoma WA
10x10x10xTieton, International Annual Exhibition, Tieton Arts and Humanities, Tieton WA (Catalog)
2015
Collections, Invitational Group Exhibit, Gallery 309, Tacoma, WA
2014
Boats and Vessels, Invitational Group Show, Foss Waterway Seaport Museum, Tacoma WA
2011
Photographs and Wire Sculpture, 2-Person Show, Sandpiper Gallery, Tacoma WA
2010
Bags with Purse-onality, Invitational Group Show, Sandpiper Gallery, Tacoma WA
2009
Flux: Metal-Urge, Invitational Group Show, Tacoma Arts Commission and Gallery Madera, Tacoma WA (Catalog)
2008
re-Art '08, Invitational Group Show Gallery Madera, Tacoma WA
Icon, Group Show, 2Vaults Gallery, Tacoma WA
2006
Concreativity, Invitational Group Show, Handforth Gallery, Tacoma Public Library, Tacoma WA
Suitcase Sightings, Group Exhibit, American Art Company, Tacoma WA
2005
Biology, Chemistry, Physics, Invitational Group Show, SeaTac Airport, Seattle WA
2003
Biology 202-203 - Invitational Group Show, SeaTac Airport, Seattle WA
Cakewalk, Invitational Group Event, Tacoma Contemporary, Tacoma WA
2002
Biology 101-103 - Invitational Group Show, SeaTac Airport, Seattle WA
Boundaries - 2-Person Urban Window Installation, Commencement Art Gallery, Tacoma WA
2001
The First Splash - Invitational Group Show, Bellevue Art Museum, Bellevue WA
2000
Rituals for Nature - Masks and Constructions - Solo Exhibit - Random Modern Gallery, Tacoma WA
1999
The Art of Paper - Group Show, West Coast Paper Company, Kent WA
Masks for Nature - Invitational Show, Commencement Art Gallery, Tacoma WA
Art for Nature - Solo Exhibit - Gilmartin Gallery, University Unitarian Church, Seattle WA
Chris Wooten: Masks of Nature - Solo Exhibit, 747 Fawcett Gallery, Tacoma WA
Chris Wooten: Featured Artist - Solo Exhibit, LeRoy Jewelers, Tacoma WA
Chris Wooten: Masks - Solo Exhibit, Starbucks at UWT, Tacoma WA
1998
The Art of Paper - Group Show, West Coast Paper Company, Kent WA - Best in Show Purchase Award - Juror: Elaine Koretsky, International Papermaker
1996
The Art of Paper - Group Show, West Coast Paper Company, Kent WA
Natural Instincts - Group Show, Art Quest Gallery, Auburn WA - Award for Innovation in Concepts and Technique
1995
South Sounds Juried Competition, Commencement Art Gallery, Tacoma WA
1994
Primitive Moods - Invitational Group Show - Milner Gallery, Gig Harbor WA
1987
Fishart, Invitational Group Show- Columbia Art Gallery, Hood River OR
1986
40th Annual Bellevue Arts & Crafts Fair, Bellevue WA
12 x 12 Art Auction - Seattle Design Association, Seattle WA (Catalog)
1984
Western Washington Fair Arts Exhibition, Puyallup Fairgrounds, Puyallup WA
1982
Anacortes Arts & Crafts Festival, Anacortes WA
1980
Seattle Printmakers - Invitational Group Show, Stone Press Gallery, Seattle WA
1978
5th Annual Midwestern Printmaking and Drawing Exhibition - Tulsa City/County Library System Gallery, Tulsa, OK, (Catalog) - Permanent Collection Purchase Award
Muscatine Art Center Annual Exhibition, Muscatine Art Center, Muscatine IA
1977
Chris Wooten & Vladimir Shakov - Two-person Exhibition - Sioux City Art Center, Sioux City IA
1974
Muscatine Art Center Annual Exhibition, Muscatine Art Center, Muscatine IA
1973
Mid-Mississippi Valley Annual, Davenport Municipal Art Gallery, Davenport IA, (Catalog) - I.T. Rostenbach Award
1972
Mid-Mississippi Valley Annual, Davenport Municipal Art Gallery, Davenport IA, (Catalog)- Award from Tri-City Garden Club
PUBLIC ART COMMISSIONS
| | |
| --- | --- |
| 2013 | "Red Rooster Bench" - Fern Hill Historic Neighborhood Business District, Tacoma WA. Co-created. Sited with "Chicken Fun Sway" at 84th St and S. Park Ave, Tacoma WA |
| 2005 | "Sea Charmer" Face West Figurehead Sculpture for Tall Ships Festival, Tacoma WA. Co-created. |
| 2004 | "Chicken Fun Sway:" Red Door Project - City of Tacoma, Economic Development Department, Tacoma WA. Co-created. (Catalog, Map and Calendar) |
| 2001 | "Canned Salmon" - Commissioned by the City of Tacoma's Department of Public Works and Environmental Services. Sited in Tacoma's Theatre District. Tacoma WA. Co- created. (Published on the cover of the City's Annual Report. |
| 1997 | "...and things that go BUMP in the night" - Seattle Fringe Festival, City of Seattle Municipal Light and Theatre Company, Seattle WA |
PUBLICATIONS AND TV
2019
Alec Clayton, "Pick of the Crop,"Weekly Volcano, Tacoma & Olympia WA, March 28, 2019
Molly Gilmore, "Eclectic Invitational Showcases 10 Artists from the Region", The Olympian, March 20, 2019
2018
Southwest Washington Juried Exhibition Catalog, South Puget Sound Community College, Olympia WA, July, 2018
2017
10x10x10xTieton Exhibition Catalog, Tieton Arts and Humanities & Marquand Editions, Tieton WA, Aug. 12, 2017
2011
Dave Davidson, "Know your public art: Fern Hill's Magical Portal, Tacoma Weekly, Tacoma WA, May 29,
Dave Davidson, "Husband and Wife Team Exhibit at Sandpiper", Tacoma Weekly, Tacoma WA, July 29, 2011

Rosemary Ponnekanti, "Wooten's Feminine Trees", The News Tribune, Tacoma WA, July 29, 2011
2008
Michael Swan, "What the Flux?," Weekly Volcano, Tacoma WA, July 29, 2009
2009
Alec Clayton, "Recycled re-Art" - The Weekly Volcano, Tacoma WA, October 22, 2008
2006
"2006 Calendar", Month of April - Sands, Costner and Assoc., Tacoma WA, January, 2006
David Chesanow, "Public Art Tour", The News Tribune special advertising publication: Live Your Destiny, Tacoma WA, October 2006
2005
Alec Clayton, "Emotional Baggage", The Weekly Volcano, Tacoma, WA, June 2 -8, 2005
Alec Clayton, "Best Case Scenarios", The News Tribune, Sound Life, Tacoma WA, Aug. 8, 2005<
Lane Ficke and Carol Mathewson, "Red Door Project", featuring the sculpture Chicken Fun Sway. TV Tacoma interview, aired 25 times throughout the month of August 2005
2004
Kate Chenoweth, "Get cultured in Tacoma", Sunset Magazine, January issue, 2004
Brett Oppegard, "Public Art can help define and energize a city", The Columbian, Vancouver WA, May 24,
Brad Broberg, "Doors Adorned", the News Tribune, Tacoma WA, Sound Life section cover story, May 14
Alec Clayton, "Behind the Red Doors", The Weekly Volcano, Tacoma WA, May 20 -26th, 2004
Marcelene Edwards, "Fern Hill Spruces Itself Up For Business", The News Tribune, Tacoma WA, June 29, 2004
2003
Virginia Bunker, "Cakewalk Epilogue 2003", Toby Room, Tacoma WA, December, 2003
2002
"Salmon Sightings", The News Tribune, Tacoma WA, January 24, 2002
2001
Travis Weston, "Downtown Tacoma Gets 8 Feet of "Canned Salmon", Tacoma Weekly, Tacoma WA, Nov. 29, 2001
1999
Leann Seaberg-Perry: Interviewer, "March Featured Artist", TCI Cable TV Show, "Around Here", Tacoma WA, 5 minute segment aired 25 times during March, 1999
Jen Graves, "The Faces of Nature in Art", The News Tribune, Tacoma WA, Sound Life section cover photo and story, December 16, 1999
1998
Aimee Green, "Artists pound art out of pulp in paper exhibit", The News Tribune, Tacoma WA, June 3, 1998
1997
Jimi Lott, "Facing the Fringe", The Seattle Times, Tempo section cover story, Seattle WA, March 5, 1997
1978
Julie Jensen, "15 Art Works Honored: Mid-Mississippi Features 77 Artists", Quad City Times, Davenport IA, October 22, 1978
1975
"Winter Art Festival at Hauberg Center", The Argus, Rock Island IL, Feb. 25, 1975
COLLECTIONS
Fern Hill Historic Business District, Tacoma WA
City of Tacoma, Dept. of Public Works and Environmental Services, Tacoma WA
West Coast Paper Company, Kent WA
City of Seattle, Municipal Light and Theatre Company, Seattle WA
Axis Consulting International, San Francisco CA
John Deere & Company, Moline IL
Tulsa City/County Library System, Tulsa OK
University of Illinois Memorial Union, Champaign IL
Many private collections
---
For inquiries about Sales/Commissions/Exhibitions, contact: ChrisWooten@Earthlink.net
© Copyright Chris Wooten, All Rights Reserved Worldwide